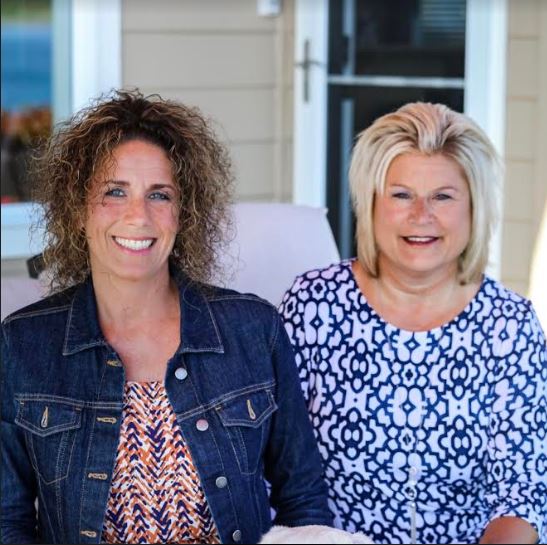 Local mortgage branch draws on employees' shared sports backgrounds to create a unique team-like office climate and client experience. Pictured: Kelli Scott (left), Paula Nirschl (right)
Inspired by her collegiate basketball coaching career, Paula Nirschl, branch manager and senior loan officer with Guild Mortgage in Vancouver, recruited a high-performance home loan "dream team" of sports-minded mortgage professionals who empower clients to secure home financing. "As coaches and athletes, we learned that hard work and preparation in the pre-season leads to success," says Paula. "We begin with the end in mind and put together a detailed playbook that helps you strengthen your home buying position and ultimately obtain a home where you can live your best life."
Paula played basketball at Blue Mountain Community College in Virginia where she became the head basketball coach at 22-years-old and led the team to a 20-game winning season. After six years at Blue Mountain, she coached at Concordia University in Portland and California State University in Northridge. Recalling her experience while coaching Division I Cal State in a game against top-ranked University of Connecticut, she says, "I walked into the gym filled with screaming fans, and thought, 'I began at a junior college, how did I get here?' It was because of my never give up mentality and belief that failure is never, never, never an option."
Paula applies the skills and knowledge she learned as a coach to her mortgage career and says, "For most families, 85-percent of their wealth is tied to their home. It's the biggest purchase they'll ever make, but they're confused and overwhelmed. We listen, we coach, and we find out what their budget and goals are up front so that we can put a plan in motion and set them up for success."
Mortgage Executive Magazine named Paula one of the "Top 1% of Mortgage Originators in America" in 2016, 2017, and 2018. The National Association of Professional Mortgage Woman (NAPMW) awarded Paula the National Leader of the Year Award for her work with their local chapter in 2016. Since joining Guild Mortgage in 2011, she's opened five branches in Oregon and Washington and her team closes $200 million in loans annually. She is a NAPMW board member, a national coach for Guild's Elevate Coaching program, and partners with ninety-nine girlfriends, an organization that provides learning opportunities and grants for local women.
Paula met one of her top mortgage recruits, fellow senior loan officer, Kelli Scott, at a local gym in 2004 and says she hired Kelli because of her ability to connect and encourage others. "She was whooping and hollering, and cheering people on from the back of a spin class at 5 am and I just knew that she had the personality to succeed in such a relationship-driven business," said Paula.
Kelli had worked in the banking industry for five years and was passionate about helping people achieve their financial goals. She agreed to apply for the job and scored the highest Paula had ever seen on a required 300-question personality test. "The test confirmed my gut instinct that she'd be a great fit for the position. She's caring, positive, and is really good at being present with clients and experiencing the process with them."
An avid long-distance runner and soccer player, Kelli draws on what she's learned while training for several full marathons to guide her clients through the process of securing a home loan. She says, "Like a marathon, there are ups and downs along your home buying journey and it's normal to feel fear and frustration. I educate my clients and let them know what's coming next, and encourage them to stay the course and keep moving. If you can do that, you'll be really happy with your results."
Kelli committed to living a high-octane, purpose-driven life after the sudden loss of her father when she was 17-years-old, and says, "Life can be over in a moment and I don't want to sit on the sidelines. I set high expectations for myself and I believe you can accomplish anything you put your mind to. Buying a home is a big achievement but a lot of people don't realize what it takes to make the American Dream come true. With hard work, anything is possible."
Paula and Kelli's sports mentality carries over to the rest of their office staff, which includes assistants Stacy Martinez and Michelle Beltran, who has worked in the mortgage industry for 15 years. Loan processor, Jordan Pederson, has worked with Paula and Kelli for nine years.
Paula believes each teammate has a unique and important role to play, and encourages her staff to embrace the Guild Mortgage tagline: "Created by one, built by many." She says, "Knowing your role is part of being on a successful team. If your role is to shoot the ball, you shoot the ball. If your role isn't to shoot the ball, then you set screens, rebound, and do whatever you need to do to help you and your team succeed."
"Everyone on this team wants to be a part of something bigger than themselves and we've created an environment where motivational signs hang on the walls and they know what we stand for—working together to get results we can be proud of."
To learn more about how Guild Mortgage- Paula Nirschl & Kelli Scott can help you secure home financing, visit their office at 201 NE Park Plaza Drive #242, Vancouver, WA, or call 503-519-1377or 360-901-9617.