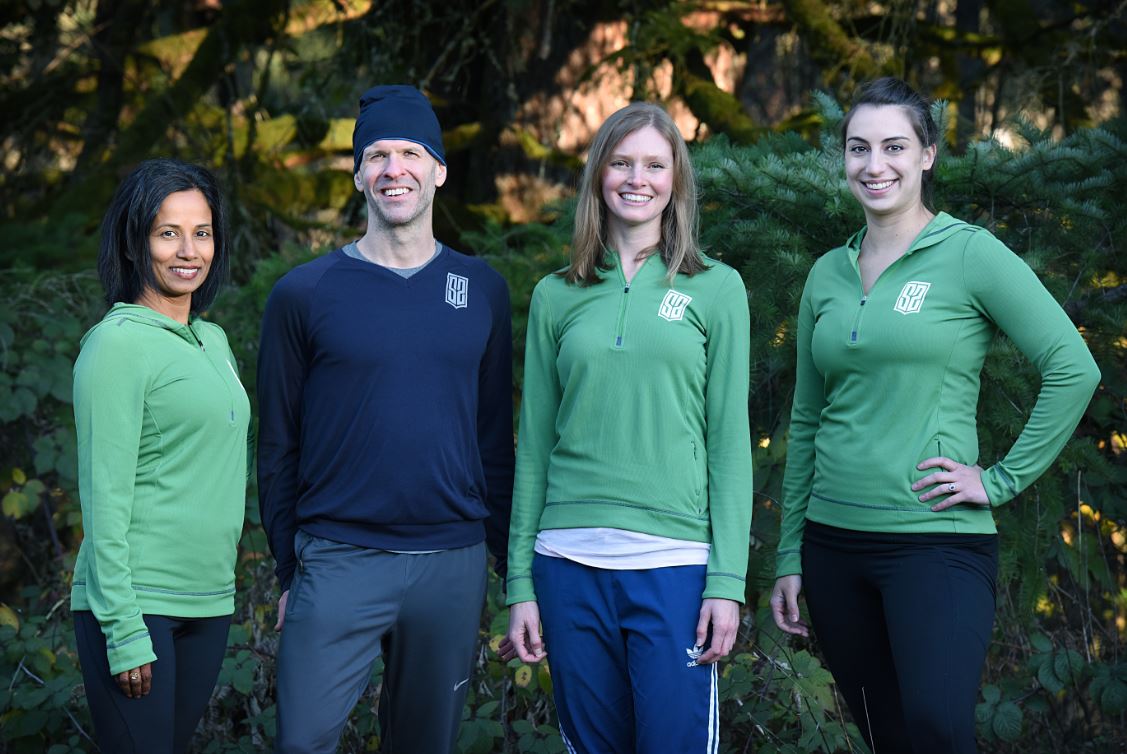 From left Dietician Bamini Pathmanathan, Spears Strong Founder Jonathan Spears, Optimal Health Guide Shelby Spears, Massage Therapist/Personal Trainer Sara Stevens. Image credit: Tina Eifert/Blu Box Art
Today's fitness industry often encourages popular workout methods that promote competition and sport, but Spears Strong, a gym located in Camas, WA, offers a unique fitness approach that addresses muscular imbalances caused by what you're doing outside of the gym.
Husband and wife co-owners, Jonathan and Shelby Spears, believe that common daily activities like sitting too long at a computer can result in neuromuscular and muscular skeletal imbalances that reduce a person's overall level of performance and quality of life. Their gym uses the ADAPT Training method to provide the tools members need to re-train their muscles to work the way they were designed to, resulting in increased strength, the removal of aches and pains, and injury prevention.
"Our health and fitness is a result of our total daily environment, not just the time and energy we spend consciously training ourselves," Jonathan says. "Sitting, driving, texting, eating, having our attention captured by a screen ... is the modern environment we as a society have trended towards and it is causing us to do almost all of our daily movements in a very confined box, infrequently getting out of that hunched, tightened position. At Spears Strong, we get you moving in every direction and we use the ADAPT Training philosophy to design workouts that improve your brain-body connection and increase your body's dependability for all situations so you know it won't break down as you go through your days."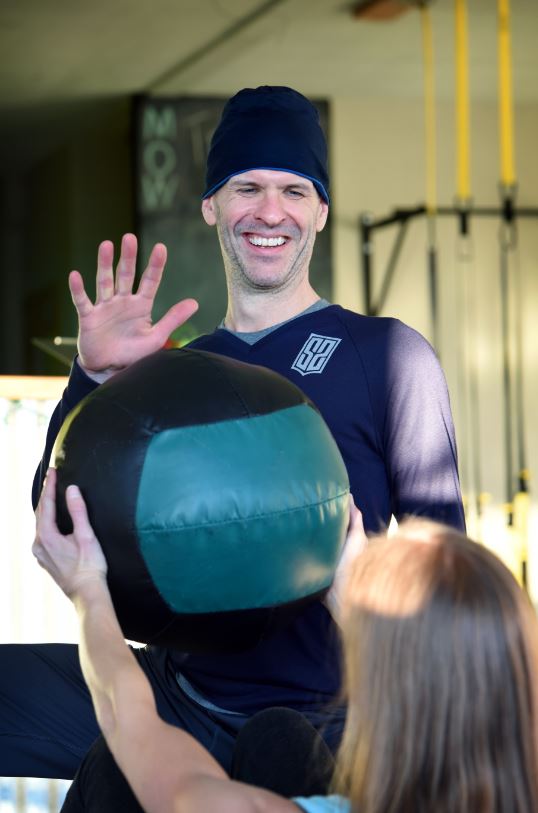 Jonathan Spears, Spears Strong Founder and Personal Trainer. Image credit: Tina Eifert/Blu Box Art
Charline Wright, owner at Columbia River Realty in downtown Washougal, says she started working out at Spears Strong hoping to alleviate symptoms and restore loss of function due to knee surgery. After group and individual training, her functionality has improved, she's lost weight, increased her strength, and is planning to go on safari with her three young daughters later this year.
"I am stronger while doing my normal daily activities as a real estate broker and I'm doing things that I wouldn't have dreamt of doing before – like going on safari where I'll have to walk fast to keep up with my girls," says Wright. "I'm healthy enough to go out and make great memories with my family – that's priceless!"
Wright—who has lifted heavy weights in the past—says her trainer assessed what she does for a living, her health history, and her level of activity to design custom workouts that include small, daily focused movements for her to counter attack the daily repetitive motions that she does day in and day out for her job. Every training session is different but based on the same core principles.
"I went in the other day and told my trainer that my foot kept turning in when I walked. She evaluated me and said, 'I think we need to do little exercises that will strengthen the inside of your thigh so that it's not pulling at your foot.' We worked on it, I went home, and sure enough my foot wasn't turning in anymore. Everyone there is so well-trained on how different parts of the body are connected and how they work together."
The ADAPT Training method was founded by Brian Cassidy, who played for three years on Stanford's starting offensive line and was ranked number one in the country at his position before he was forced to give up his NFL dreams due to a career-ending injury in 1993. When aggressive rehabilitation didn't work and his knee injury triggered severe back problems that nearly left him paralyzed, Cassidy looked for a new approach to rehabilitation. In 2006, he opened ADAPT Training in Beaverton, OR.
Jonathan, who previously trained at Cascade Athletic Clubs Fisher's Landing, became a certified ADAPT trainer in 2013 and the couple opened Spears Strong in 2015. They first operated in a basement at Camas Friends Church before relocating in 2016 to their current space on 2nd Ave., Camas.
Jonathan has been training for several years but also holds an associate's degree in Industrial Engineering. He has run ultra marathons, completed the Wisconsin Ironman, Boston Marathon and raced mountain bikes in Colorado. He is also a National Council on Strength and Fitness certified personal trainer and holds multiple specialty certifications, including in USA Track and Field, TRX and more.
Shelby is a former news reporter with Reuters who also teaches journalism part-time at Clark College and she will be leading Spears Strong's new Optimal Health Process being launched this Spring. Shelby holds a master's degree in journalism and is an American Council on Exercise certified Health Coach and group fitness instructor. She says, "Jonathan was always sharing client success stories with me and I wanted to be a part of something that was so meaningful and purpose driven. I ran marathons and enjoyed it but I was never strong, struggled with self-confidence, and was injured all the time. I would run, run, run and then get hurt and be off for three months. Jonathan learning and applying the ADAPT Training philosophy and starting Spears Strong has changed my life and sharing this with others and creating a healthier community is now my life passion."
Shelby says her role as an optimal health guide is to teach members an overall balanced approach to their health. "I've learned with personal growth and development that it's more than working out and eating right. It's the little things we do day in and day out to take care of ourselves. If you have stress or anxiety or trouble with hydration, little things like journaling or drinking more water are important but can be hard to keep up. I'm here to help keep you accountable and steer you in the right direction."
Spears Strong is also launching the Spears Strong Training Process this Spring, a focused monthly program individualized to align your posture, improve your day to day functioning and get you to crush your goals again and again, for life. Both the Optimal Health and Training Process programs break down the steps you need to sustain health and fitness into every day, doable tasks.
"If we can do a lot of positive, easy things on a daily basis rather than really tough things every once in a while ... that's where it's at," Jonathan says.
Shelby says she loves the sense of community and support that the gym has created, and that it's been life changing to live in such a positive community. "Lots of people that have never met before are now best friends and they're doing races together and playing with their kids together – the forming of lasting relationships is one of the coolest things I've seen. We just want to share our knowledge and get the Camas-Washougal community healthy, fit, feeling happy, and enjoying life more."
"If you think the traditional gym is not for you, we're here for you. We get into those cycles of not going to the gym and getting out of our routine and we lose confidence. But if you did it before, you can do it again. You just have to be willing to be ready and say, 'I want to change.' Wanting to change and accepting that it's possible is the first step. It won't be easy but it won't be overwhelming and we will be here for you when you're ready to start."
Wright says she's felt at home at their gym, which is known as The Spears Strong lab. "I go to the classes and if I can't do something, then I modify it. And they're okay with that because they don't want you to hurt yourself. I'm going to do their outdoor motivational walking series next week and Shelby said I don't have to worry about keeping up or whether or not I can walk that fast. I even went paddle boarding for the first time with them on Lacamas Lake last summer. I fell in and nobody cared! It was really fun!"
In addition to offering daily classes and personalized training, Spears Strong also offers massage with Sara Stevens, LMT, who is also a certified ADAPT personal trainer and holds a degree in kinesiology. Dietitian Bamini Pathmanathan, RDN, also joins the team this spring, bringing a wealth of knowledge and experience about food. Spears Strong also offers a weekly outdoor motivational walking activity based around a monthly theme and outdoor group adventures like snowshoeing and paddle boarding.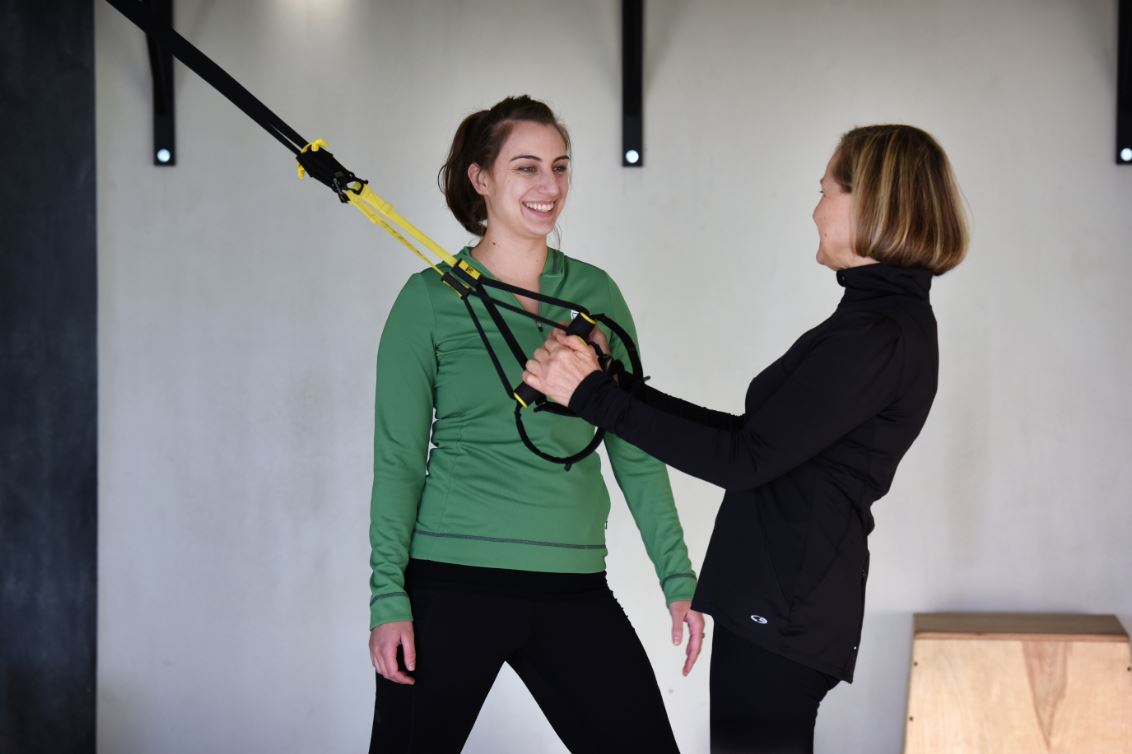 Sara Stevens, personal trainer and massage therapist. Image credit: Tina Eifert/Blu Box Art
Shelby says, "We want to give you the confidence to feel secure in your body so that you don't have to worry about hurting yourself when hiking with your kids, or you don't have to sit in the lounge when your family is out skiing. It's all about making your body more efficient so that you can live your best life possible."
To find out more about group workout hours and pricing, visit: spearsstrong.com or call 360-844-5539. Spears Strong is located at: 3517 SE 2nd Ave., Camas, WA 98607.