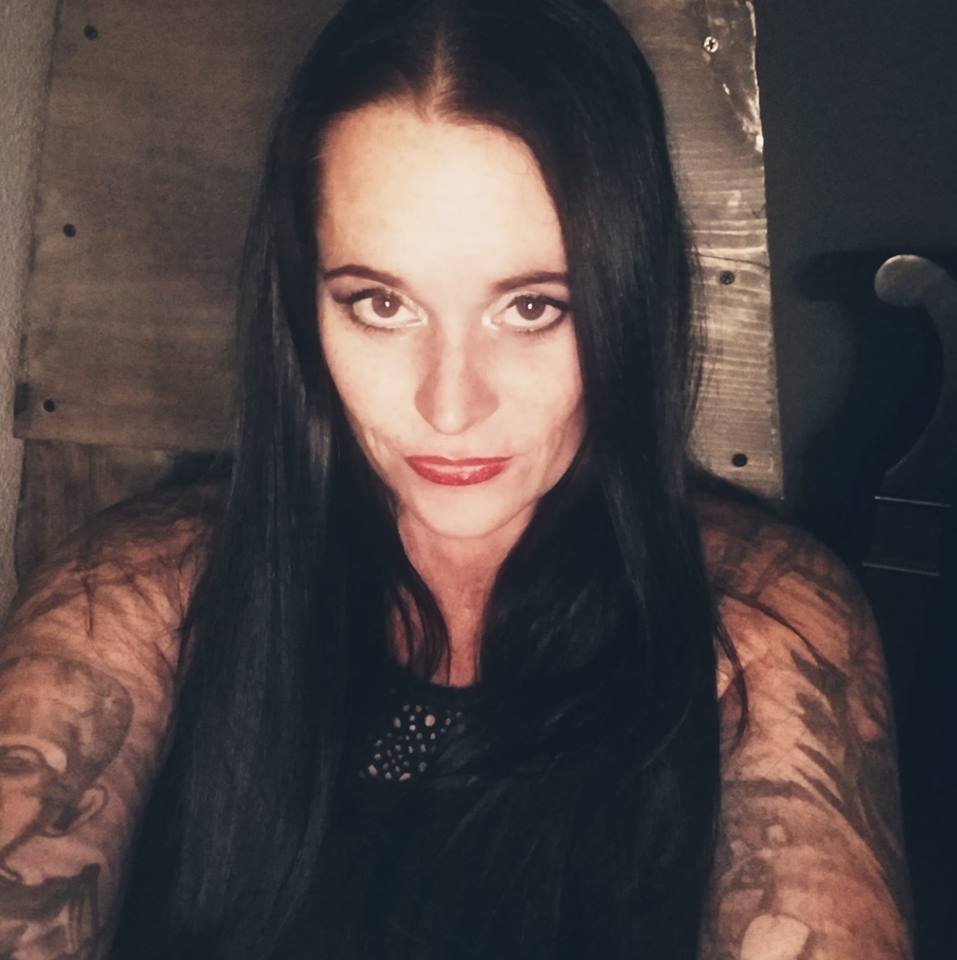 Nikki Gesler has always had an interest in the dark side of life.
Recently, Gesler found a way to merge her curiosity in paranormal activity, goth, and local legend, with her longtime love of scents, opening Washington Wicks, a candle company inside her Washougal home she shares with her husband, Joel, and their son, Dash, 7.
"I wanted to create a candle that was out of the box," says Gesler.
Gesler created Washington Wicks in 2017 after what she describes as an "ah-ha" moment while recovering from major surgery. "I was on the recliner and asked my husband to go upstairs and get something from the bathroom," says Gesler. "He opened a cupboard door and was like, 'Holy sh*t! Why do you have all these candles in here? What do you need all of these for?" Gesler laughed and said, "He told me I should just start a candle business and it was like a light bulb turned on in my head."
Since then, Gesler taught herself how to make candles using the Internet and now hand pours and labels small batches of soy candles with unique fragrances and stories inspired by the Pacific Northwest.
"When you read the story and smell the candle, I want you to feel like you're at that place," says Gesler.
Washington Wicks offers a Spook Series candle line that includes 5 of the most haunted hiking trails and places to stay in Oregon and Washington. One of her candles is named after the Norblad Hotel, the oldest continuously operating hotel in the Pacific Northwest, where a Travel Channel camera crew reported, "A dangerous and very unholy presence in the basement."
The same crew traveled to Wolf Creek Inn, a hotel built in 1833 along the Applegate Wagon Trail. They crew reported the building was "Riddled with aggressive negative energy, apparitions, and a vampire-like creature." Gesler was inspired to create a Wolf Creek Inn candle that she says smells like, "Smoldering smudge sticks, antique furniture, and 100-year-old linens - a unique and sensual aroma."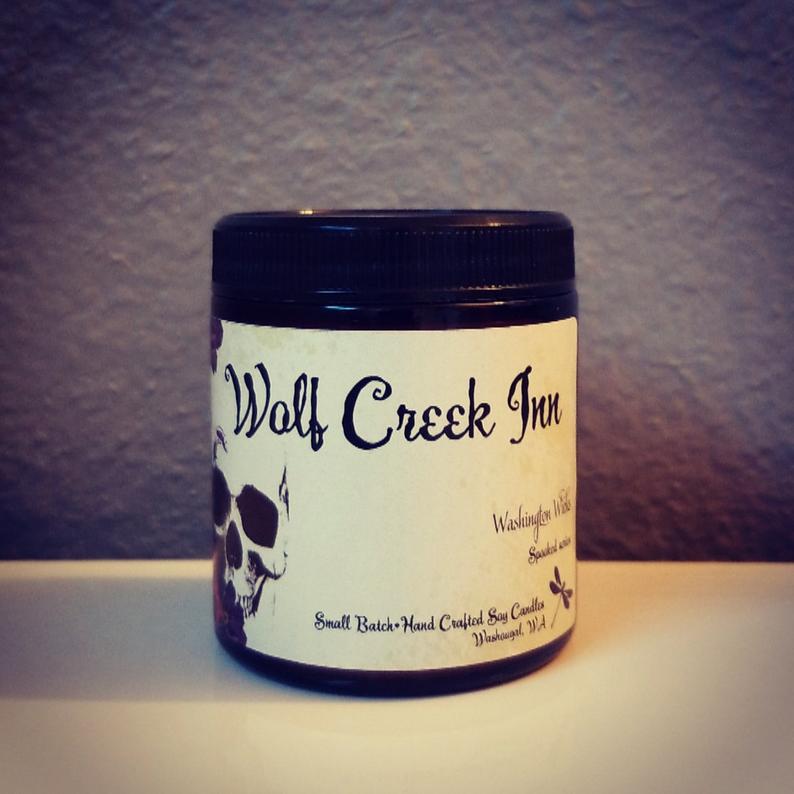 Gesler's interest in the paranormal once led her and two friends to a vacant building in La Grande, WA, that was previously a military hospital and insane asylum. "We went at night with voice recorders and cameras," says Gesler. "The building was in shambles. The windows were broken out, and there were an old wheelchair and a gurney with a metal drain tube on it. It was straight out of a horror movie."
Gesler also created a candle called, "It was the Boogie Man," named after a line in the John Carpenter horror movie classic, Halloween.
Shane Carlson, an ex-sommelier YouTube star known as The Candle Enthusiast, recently reviewed the candle and said, "In a world where we have so much pumpkin spice without the smell of pumpkin itself, this is a breath of fresh air. We've all had that experience where we plunge that pumpkin right through the flesh. Cut off the top, stick our hand inside and it is freezing cold because the pumpkin has been sitting on the front porch. This candle has that all of the way."
Her Myths, Legends and Oddities Collection includes candles named "Sasquatch," "D.B. Cooper," "Polybius," and Bandage Man of Cannon Beach."
When Gesler graduated from Washougal High School in 1997, the blonde haired "girl next door" was known by her classmates for her natural beauty and athletic ability. Shortly after graduation, she dyed her hair black and began getting tattoos and sharing her interest in goth, rock and roll, and the supernatural. Today, she has tattoos all over her body including full sleeves, knuckles, ribs, back, feet and legs.
"When I was in school, I always cared a lot about what people thought of me," says Gesler. "I was a preppy, goodie two shoes so It seemed like I changed all of the sudden, but I always loved this stuff and was just too afraid to do it. I love the quietness, mysteriousness, and how it can intrigue you and scare you, and make you love it all at the same time."
Now, at 40-years-old, Nikki says she's learned to embrace who she is and to not care if somebody understands or likes her, but to still be kind. "Be who you are, do what you want, and don't listen to what everyone else says. If they say, 'It's not going to work,' then say, 'Bye! I don't need you!'"
On both of Gesler's ribs is a tattoo created by Joseph Vargo, her favorite tattoo artist and owner of Monolith Graphics in Ohio. Vargo designed a label for her candle line, Halloween Dark Collection. Vargo's Nox Arcana bandmate and longtime friend, William Piotrowski, is opening a gothic boutique store in LA later this year where Gesler's candles will be sold.
Local tattoo artist, Kelly Weseman, designed the Washington Wicks logo. "I can't draw a stick figure but I have things in my mind that I want, and I commission local artists to do them and then manage the printing myself," says Gesler.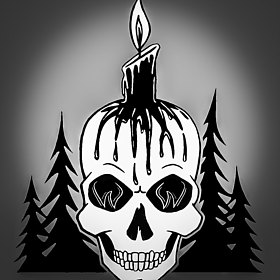 Most of Gesler's candles are inspired by her love for the Pacific Northwest, but not all of them are quite so spooky.
While driving home from a trip up the Columbia Gorge to get a sasquatch sticker for Carlson, Gesler was inspired to create a new scent, called, "Pacific Crest Trail." She said, "I drove past the Pacific Crest Trail sign, stopped, turned around, got out of my car in the rain, and took a photo. The candle has the scent of moss, evergreen, and Palo Santo, and takes me right back to that spot. There are even evergreen needles on top."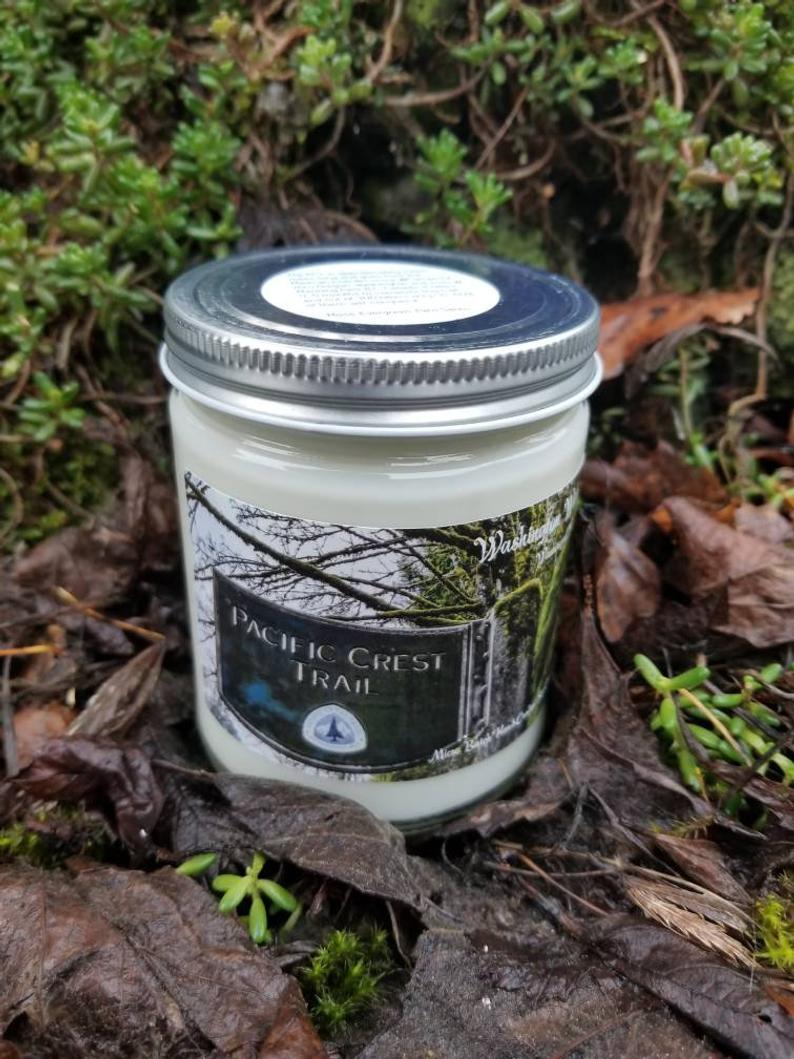 Her "Fun Facts," candle line includes a candle called "Pacific Drizzle" with a fact about how much it rains in WA attached to the lid. "The Old Apple Tree 1826," candle is named after the oldest apple tree in the Pacific Northwest, located in Fort Vancouver.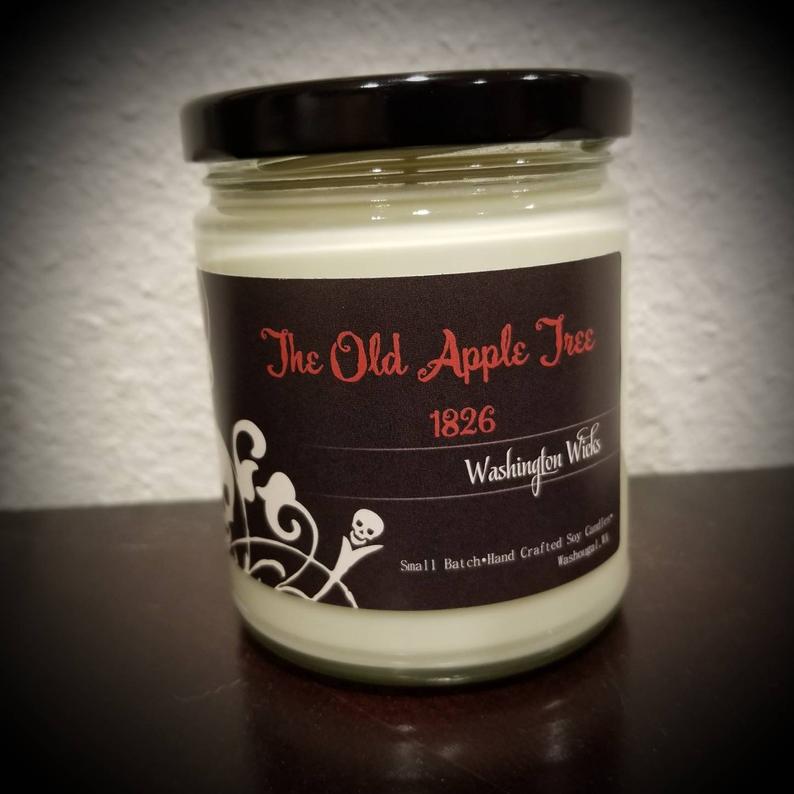 "I like finding inspiration from where I live to create cool new scents with a local twist," says Gesler. "It's important to be proud of where you come from and embrace where you're at."
Downtown Camas bakery, Cake Happy, sells Gesler's cinnamon, vanilla and dough scented candle with their logo on front. Urban Style, a salon just across the street from the bakery, commissioned Gesler to create a candle that smells like lemongrass, coriander, and grapefruit. Her coffee scented candle can also be purchased at local coffee drive-through, Squeeze and Grind. Next, Gesler plans to create a scent inspired by Camas Days called "Candy Land in Camas," that will smell like a waffle cone, salt water taffy, and cotton candy.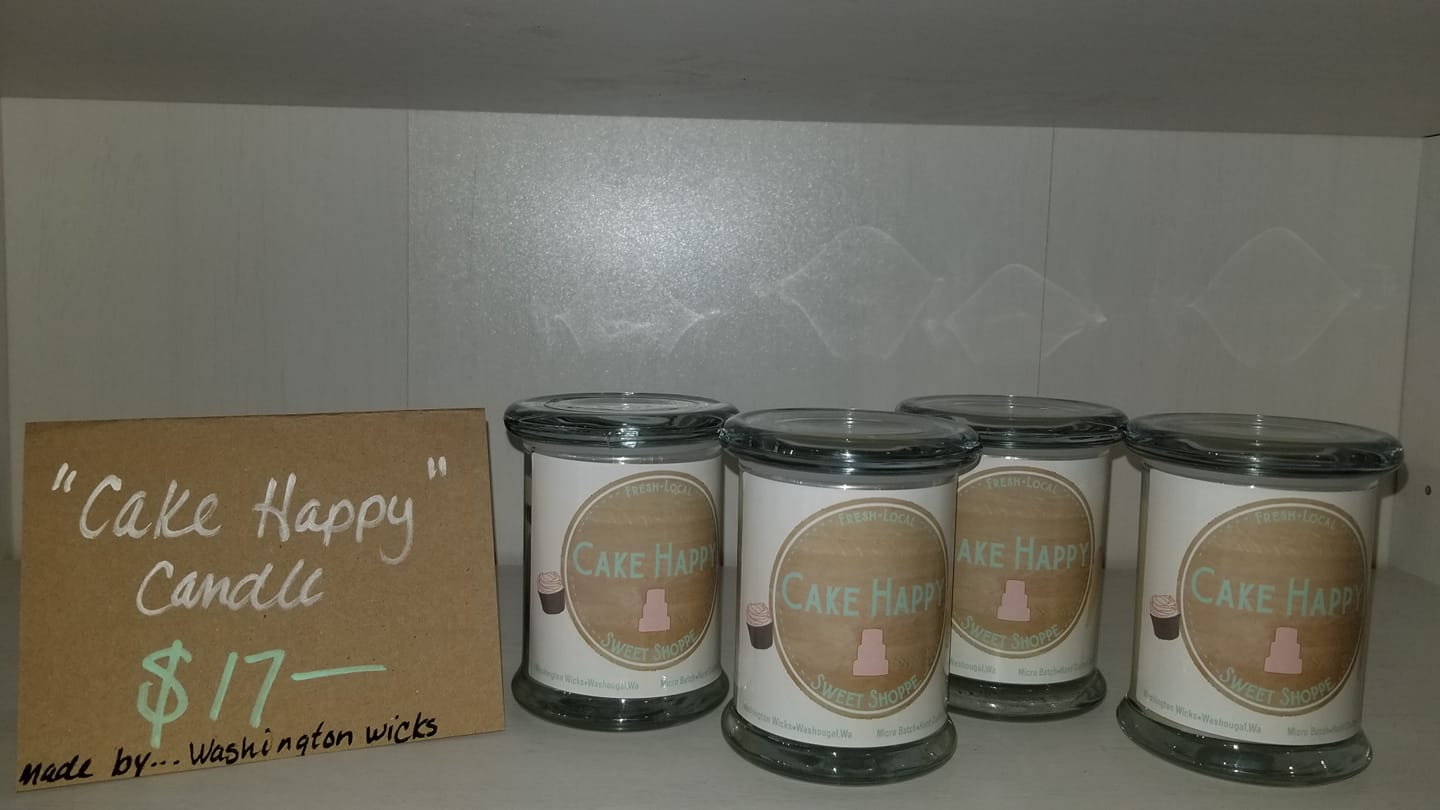 Washington Wicks candles can also be purchased at Camas Antiques, Scout Northwest Trading Co. in Lincoln City, and at her Etsy Shop (www.etsy.com/shop/WashingtonWicks).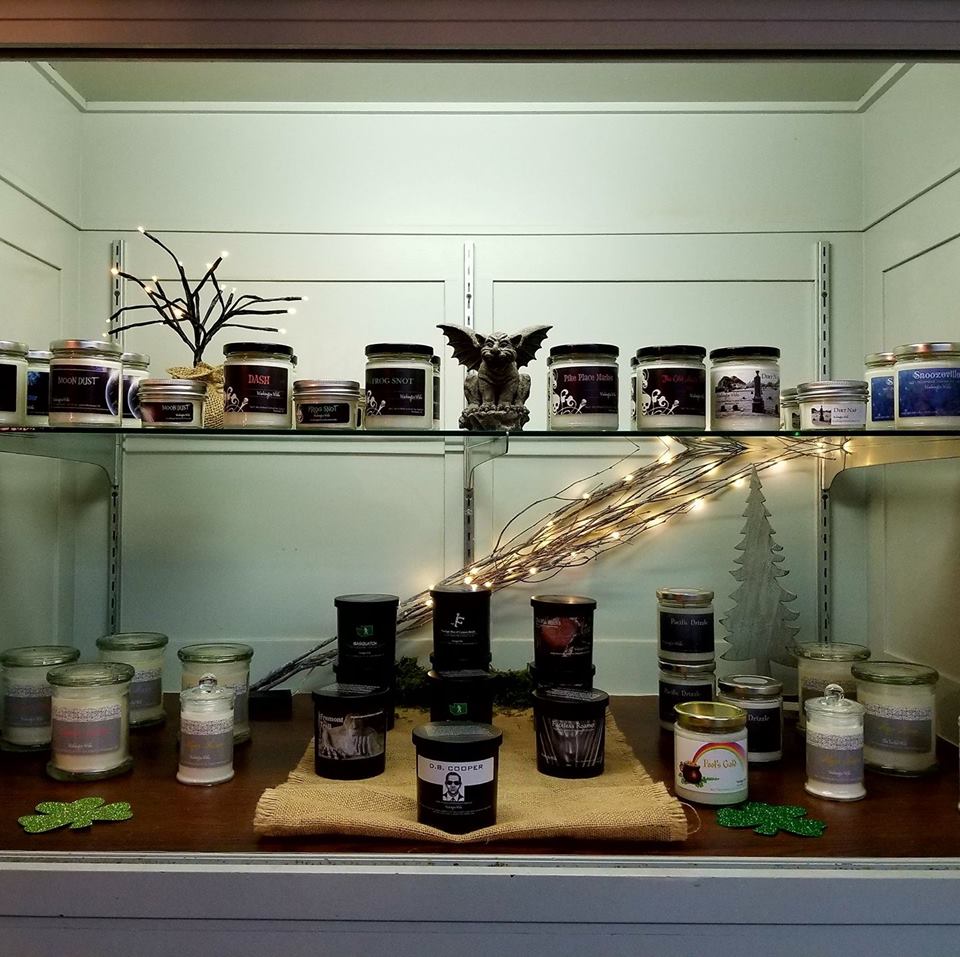 Gesler says she gets frustrated when a new scent doesn't turn out the way she hoped, but she just keeps trying. "Right now, I'm trying to capture the smell of wet pavement," says Gesler. "You know that smell right after it rains? I can't quite get it yet but I just remind myself that nothing comes out perfect the first time and to keep working at it. I'm not a chemist and failed at chemistry and math in high school, but I love to mix and want to learn more about it. Some scents turn out great and others are real doozies!"
Gesler makes candles using all natural soy, a cotton wick, and phthalate-free fragrances and essential oils for a clean burn. She says, unlike paraffin candles, soy wax has no toxins, carcinogens, or pollutants. "You know the black soot that most candles put off? That's petrol, which is gas, so imagine what burning that does for your health and the environment."
Gesler says one day she'd love to have a brick and mortar store in downtown Camas where she could sell candles along with spell books, potions, and items from PNW artists.
"I've finally found what I'm meant to do," said Gesler. "It's not a big important thing, but it is to me. If someone buys my candle and it brings up a childhood memory and puts a smile on their face or makes them cry, then I've done my job."